I hope you and your child enjoyed visiting our classroom on Tuesday morning.  I enjoyed meeting all of you and I'm looking forward to a great year together!
Here are a few details to keep in mind for the week ahead:
Monday, September 9 (1/2 day)
(Please make sure to bring a snack, a pair of gym shoes, a box of kleenex, a small pillow, and a plastic cup labelled with your child's name)
When you arrive please help your child hang up their backpack inside their locker.  Any of the above listed items can be placed there as well.
The classroom door will open at 8:55 am.  Your child will be asked to come in and move their magnetic star on the filing cabinet
and then sit on one of the spots at the big carpet.
Feel free to come in with them and help them find their star, take a picture if you'd like, and give your child a big hug, telling them you'll be back at 12 to pick them up.
Note: There might be some tears.  If this happens with your child don't feel badly about leaving them.  I will happily console them and have always found that children settle much more quickly once mom or dad has left.
We will soon be playing and having a great time with our new Kindie friends!
At noon please come into the school and stand outside our classroom door.  I will call your child to be dismissed when I see you there.
Your child will be bringing their home folder  home with them.  There will be a note inside explaining its function more fully.
Tuesday, September 10 and Wednesday, September 11 (full days)
Please send a snack and a lunch.  If you think your child might be confused about which items are for snack/lunch you might consider using a special container for their snack or putting snack items in a separate spot in their lunch kit.  Consider having your child practise opening their containers and snack pouches.  This is great for their fine motor development and makes our meal times easier to manage.
The classroom door will open at 8:55.  Please make sure your child has their home folder.  It will go in a special basket by the front door.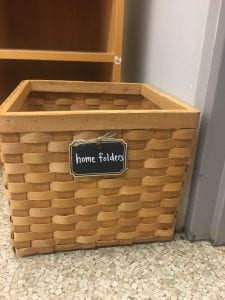 Next, your child will move their star and have a seat at the carpet.
If you think they can do this on their own then feel free to say your goodbyes in the hallway.
The bell to end the day rings at 2:55.  I will call your child to be dismissed when I see you in the hallway.
If you have any questions or concerns feel free to email me at dmorris@highroadacademy.com and I will get back to you as soon as I can.
See you soon!
Mrs. Morris