Today we had lots of pumpkin fun!  First, we studied our pumkin and drew a picture of it.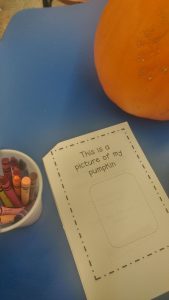 Next, we measured it with cubes.
Later in the morning we sorted our pumpkins (stems/no stems, big/little) and used our 5 senses to describe our pumpkins.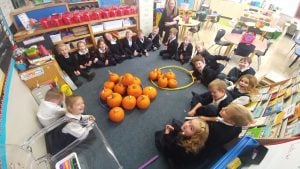 In Bible we learned how God is like a farmer who picks a special pumpkin (us), cleans it up (sin), carves a happy face (gives us joy), and puts a light inside (so we can shine His love).
We had fun exploring the slimy pumpkin insides!
We also tried hammering golf tees into a pumpkin in our sensory table.
Yay, for pumpkins!