Hello Parents,
We had full days in our class, with guessing foot prints in the play dough snow, painting migrating birds, earthquake drill, making a cave for a hibernating bear, pyjama time dance, snowman poses, and so much more.
Report cards were sent home on Wednesday, along with a self reflection page where your child circled the wolf that he/ she thinks best describes himself/ herself. Some good self reflecting took place.
Parent volunteer request
This coming Wednesday, February 5th, I'm planning to make bird feeders with the class. If you are available to come help us out, please let me know. We would start shortly after 2 pm. Thank you
Guatemala Missions Trip
As you are aware, HRA is sending a missions team to Guatemala during spring break. Our class is assigned one team member (which happens to be my daughter, Zoe), for us to pray for and collect a few items that she can bring to the kids in Guatemala. If you want more information about this trip and support in an other capacity, I want to invite you to the Missions dinner on Monday, February 3rd. Get your tickets at the school office ($10 per person). Doors open at 5pm and a yummy pasta dinner is served at 5:30 pm.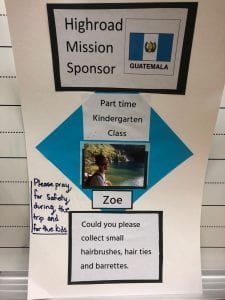 Have a blessed weekend
Upcoming dates:
Feb. 17th – Family Day (school is closed)
Feb. 25th – Math Mayhem at 6:30pm (a very fun math filled evening, prepared by our grade 10-12)