I want to apologize for not posting an update sooner but there was a technical issue with the blog and I was at the mercy of our very busy tech team to resolve it.  Looks like we're good to go now!
We are now 7 days (well, technically, 6 1/2) in to this Kindergarten year and I am so pleased with how the children are settling in!  They are beginning to get a sense of the structure of each day and are catching on to how our classroom operates.
Home Folders – By now you have seen your child's red home folder. Please make sure it comes to class each morning with your child.  If you have any notes for me this would be the best place to put them.  I usually get around to checking them by recess.  Having said that, if there is a parent who would like to stay for a few minutes to check the planners each day that would be very helpful.  You could let me know by email at dmorris@highroadacademy.com.  I have labelled the inside pouches of the folder "left" at home and bring "right" back and am hoping those labels stick for awhile. When they do eventually fall off (lol) just remember the left/right thing and we'll be good!
Classroom Rules Booklet – On Wednesday I sent home in your child's folder a little booklet we've been working on about classroom rules.  It would be wonderful if you could take a few minutes to look at it with your child this weekend.  I'm sure that they would love to show you their amazing colouring and to teach you their school rules!  Our class verse this year is Matthew 5:16, "Let your light shine" and we are learning that our rules help us to show kindness to others and when we do that we shine for Jesus!  Yay!
Me Bags – This week your child also brought home a brown paper lunch bag.  Please read the instructions attached to the bag and help your child find 3 items from home that tell something about them.  We will have the children share their me bag items next week.  I am looking forward to getting to know your child a little better through this activity!
Memory Verses – On Monday I will be sending home your child's first memory verse ("All have sinned and fall short of the glory of God").  Please review this verse with your child throughout the week.  They will be tested on it next Monday.  Having said that, I am looking for a parent who would be willing to volunteer 15 minutes each Monday morning to listen to the children say their verses.  Please email me if you are interested.  Thanks!
Phonograms – I have been so happy by how quickly this group of Kindies has progressed in learning phonograms!  We have already introduced all of the clock letters (o, c, a, d, s, g, f, and qu), seeing them, saying the sounds, and printing them on our whiteboards.  If you haven't already purchased a set of phonograms at the office, I encourage you to do so.  I also encourage you to come out to our SWR (Spell to Write and Read) seminar on Tuesday, October 3.  It will be held from 3:15-4:15 at the school.  Childcare will be provided.  There will be a sign up sheet (for childcare) available this week.
Washroom Signal –
Because I am not always able to answer every hand and don't want to miss a child who is in desperate need of a bathroom break I have given the children a special signal.  It is the sign for the letter "w".  If  see a child with their hand up like this I will know that they need to use the washroom and will let them slip out to do so.  To help reduce the number of children leaving the classroom first thing in the morning please make sure that your child has gone before the school day begins.  We will go as a class before recess, lunch, and after outside play.  Having said all that, sometimes accidents still do happen so I am asking that you send an extra set of play clothes along to keep in your child's locker just in case.  Thank you!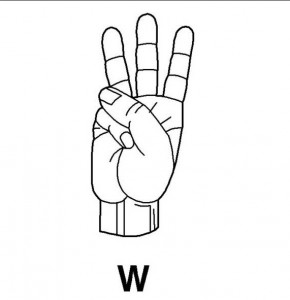 Great Badges – Your child has come home with 2 or 3 great badges already.  Please make sure that you have a special collecting spot for them.  Once they have 10 great badges they will return them for a special prize!
Labels – Just a reminder to please label your child's cardigan as well as their jackets and shoes.  These items are often removed and left in random places.  They can be so pricey to replace and a simple name on the tag is so helpful to reunite them with their owners.
I hope that all makes sense.  If you have any further questions please email me at dmorris@highroadacademy.com.  Enjoy your weekend!
Sincerely,
Diane Morris