Important Dates this Month:
Tuesday, September 13 – Individual School Photos
Please dress your child in their full dress uniforms.  For the boys that is their long pants, button down oxford shirt, and their cardigan.  For the girls it is their button down blouse, tunic, and cardigan.  The Kindergarten classes are always first to get their pictures done (hopefully before they can do too much damage to themselves!) so please be sure to have your child at school on time.
Monday, September 19 (7 pm): Parent Night
Parents are invited to come out to learn about the school, the year ahead, and meet their children's teachers.  I hope to see you there!
Wednesday, September 28 – Knight Day
All Highroad students are allowed to wear casual bottoms and their Knight t-shirt on this day if they would like instead of their uniform.  Kindie students will be provided with a free Knight t-shirt.  I will be sending those home in the next week or so.  Our school sports teams are called the Knights.  These special days often coincide with important volleyball or basketball games and help the student body show support for our school teams.  Go Knights!
Other Important Details:
Home Folders:
Your child has a home folder.  It will be used to send home some of your child's work, notices, notes from the teacher, and fieldtrip forms.  This folder will come back and forth between home and school every day.  Some days there will be nothing inside.  It will still go home and needs to come back the next school day.  Please help your child with this routine.  If you need to get some information to me you can write me a note and send it to school in the home folder.  I will check it daily by recess for any notes or returned notices.
Library:
Our class has library once a week, on Tuesday afternoons, with Mrs. Britz.  The children will be allowed to choose a book to sign out and take home.  This book will come home in a special book bag.  I would recommend that you keep the book in this bag (when not reading it) so that it will not get lost at home.  On the following Tuesday please have your child return the book in the book bag to school and put it in the library box that I will have ready outside of our classroom door.
Music:
Our class will be having Music once a week, on Wednesday afternoons, with Mrs. Caswell.
Labels:
Just a reminder to please label your child's cardigan as well as their jackets and shoes.  These items are often removed and left in random places.  They can be so pricey to replace and a simple name on the tag is so helpful to reunite them with their owners.
Washroom Signal:
Because I am not always able to answer every hand and don't want to miss a child who is in desperate need of a washroom I have given the children a special signal.  It is the sign for the letter W. If I see this signal I will know that they need to use the washroom and will let them slip out to do so.  To help reduce the number of children leaving the classroom first thing in the morning.  Please make sure your child has gone to the washroom before the day begins.  We will go as a class before recess, lunch, and after outside play.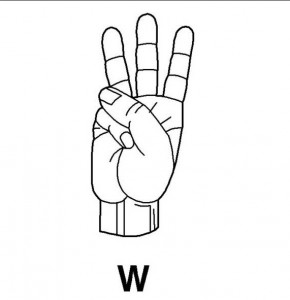 Great Badges:
Your child has come home with one or two great badges already.  Please make sure that you have a special collecting spot for them.  Once they have 10 great badges they will return them for a special prize!
Pizza Tuesdays:
On Tuesdays a pizza lunch is available here at Highroad.  I will have an order form outside of the classroom door on Tuesday mornings.  If you would like to order your child a slice of pizza please print your child's name (first and last) on the order form, indicate which type of pizza they would like, and leave $2 in the pocket attached to the clipboard.  Pizza cards can be purchased at the school office for $20 if it's easier than remembering cash each week.  If you would like to pay with a pizza card then purchase one at the office and indicate on the ordering form that this is your means of payment.  Thanks!
Hopefully all this information doesn't leave you feeling too overwhelmed!  We will all settle into a nice little routine soon enough.  If you have any further questions please feel free to email me at dmorris@highroadacademy.com
Bless you,
Diane Morris